S*Cutecat´s Isolde
Our first cat was the little princess, S*Cutecat´s Isolde. She was born 2001-07-02 and she died 2004-09-12. She was a blue colourpoint with great qualities. Isolde was a very lovely and social lady. She had two wonderful litters; Blue litter and Finnish litter. Isolde was tested for PKD and HCM at the age of one year.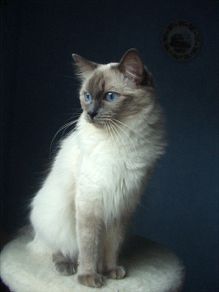 Isolde
You will always be in our hearts
and we miss You so much.
We´ll remember all the joyful moments we had
until the day we´ll meet again
love You forever.
IC S*Raggartassens Diva
Diva was a seal lynxcolourpoint girl. She was born 31 July 2004 and she left us the 30:th September 2012. Diva was a very gentle tigerlady. So many friends did admire her lovely contrasts and tabbymarkings. SShe gave us 4 litters ; 4 Element litter, Bible litter, 25th of May litter and Danish litter.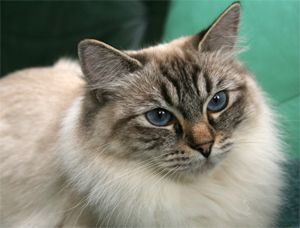 Diva
Diva, as beautiful as sweet!
You were not owned by us, you owned us!
There were many who admired your beauty.
You live in our memories and through all your beautiful offspring.
Hugs from us to you Diva
SC S*Eurovisions Raggio di Luna
Luna is a blue colourpoint girl from our own breeding and she was born 9 January 2008. She is the mother to our 2009 litter. She is not in our breeding anymore and lives by our dear friend My Hjelm.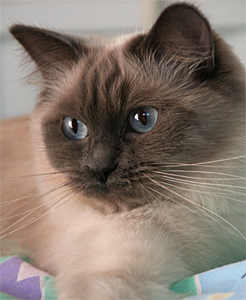 Luna
S*Cutecat´s Sapphire ´n Stripes
Sapphire is a seal tabbycolourpoint girl. Sapphire was born 10 September 2006. She is mother to one litter in our breeding, Italian litter. She is no longer in our breeding and lives by Else-Lill Heckschel.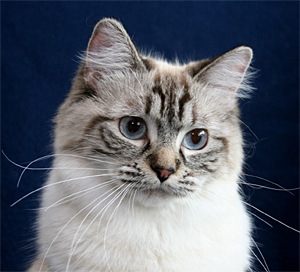 Sapphire
S*Eurovisions My Heart is Yours
My Heart, Mayya, is a blue bicolour girl. She is not correct in her markings but her type is amazing. Therefore we decided to just have one litter after her, the Cardinal litter. We have kept one girl in theis litter; S*Eurovisions Norhern Gir (Nova)l. Maya is neutered and she lives with her daughter Nova and Marianne in Uddevalla.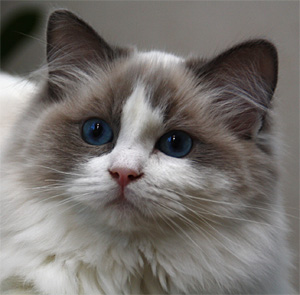 Maya (My Heart is Yours)
CH S*Eurovisions Say a Word
Say a Wors, called Sayda, is a sweet and ladylike girl. We kept her from our "Wordlitter". Her pedigree is rather special since she has a traditional pedigree. She gave us two litters. The Heartlitter and the Amourlitter. From her Heartlitter we kept Maya and from the Amourlitter we kept Belle Amour. She is no longer in our breeding . She is in the breedingprogram of family Nyborg.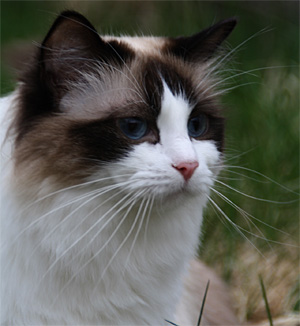 Sayda
LP II Matser´s Billy
For twelve wonderful years Billy filled our lives with joy. Time passes so quickly, it doesn´t feel like long ago when he first moved in with us. The training in obedience seems like yesterday and now he is no longer with us. Billy was always fiendly to everyone, constantly wagging his tail. So much we have experienced together.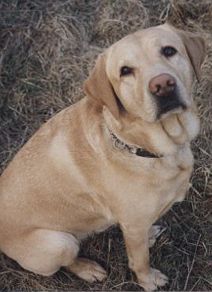 Billy
Thank You for being a part of our lives and sharing your love with us! We miss You!
Billy 93-12-24 - 06-02-28
GIC S*Angelic Dolls Tom Hanks
Our beloved GIC S * Angelic Dolls Tom Hanks has left us to early. During a cat show the 10:th of May 2009, Tommi suddenly became ill. The day after we we took him to a veterinarian. When he had been 4 days at the veterinary clinic, we decided in consultation with the veterinarian that he would be spared from more suffering. Bella and Thomas, many thanks for the time we got with Tommi. You know how much he meant to us!! Tommi is the father of our 4 element litter.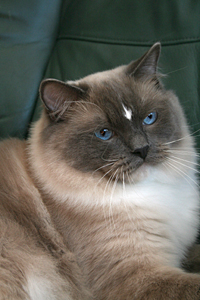 Tommi 2007-07-19 - 2009-05-31
Can a cat be in love with a man? Yes Tommi could. He followed his master like a dog and every time he saw his master his luck was complete. Tommi, You have shown us the real love of a cat. Thank You! Sleep well our sweet little boy!
GIC US*Riterags Destiny Eurovision
Destiny is a blue lynxmitted girl and she was born 26 April 2007. She had one litter, Charlotte litter, and is now neutered. She has found a new loving home by Linnéa Pettersson.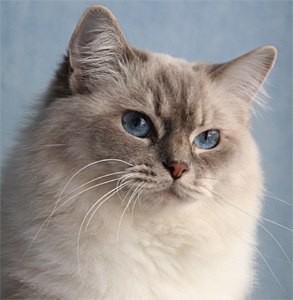 Destiny
S*Krickelins Noblesse
Noblesse is a blue mitted girl and she is born 1 Mars 2004. She is the mother of our third litter, My litter. She has now been neutered and has found a new home in the loving care of Linda Linde.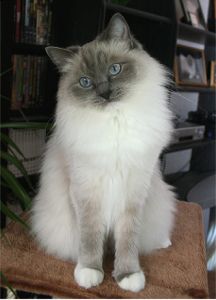 Noblesse
CH S*Hvenhilda´s Ulrik af Eurovision
Ulrik is a blue colourpoint boy and our first male in our breeding. Ulrik is born the 5 May 2006. Ulrik has become father of three litters in our breeding, 25th of May litter, Italian litter and Romantic litter.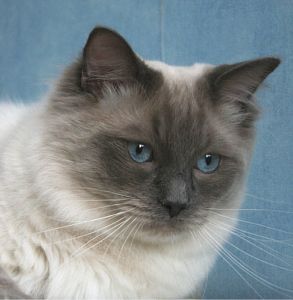 Ulrik
CH S*Eurovisions Fairytale
Fairytale, called Saga, is a blue tabbycolourpoint girl. We kept her from the 2009 litter. She gave us the Fame litter 2011. She is no longer in our breeding since she lives with our dear friend Kristin Hjelm Gustafsson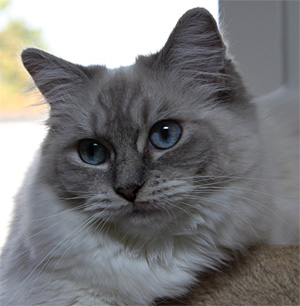 Fairytale
S*Eurovisions Mona Lisa
Mona Lisa, called Berta, is a big bluebicolour girl. We kept her from the Famelitter. She gave us the Sealitter and the Twilightlitter. She is no longer in our breeding since she lives with the Hagelin family in Kungsbacka.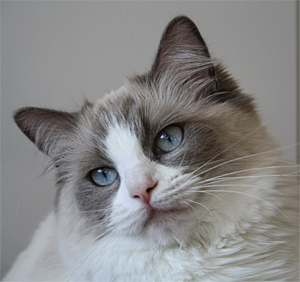 Mona Lisa