IC S*Eurovisions September Golden Rose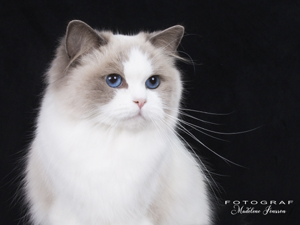 S*Eurovisions September Golden Rose, is a blue bicolour girl we have kept in our breeding from the Goldenlitter. She is born the 5:th of April 2016. Her zodiacsign is Aries. In our home we call her "Rose". Since her mother is S*Eurovisions Miracle she is our 5:th generation of our breeding. Her father is the gorgeous S*Wihlthos YaMas. Her body is both broad and well developed. She has really nice proportions. She has lovely silky coat texture and deep blue eyecolour with the expression we love. Her bicolourpattern is very attractive. Her favourite place is to sleep where she might find lot of pillows, so in her home she is known as the Queen of the pillows. She got her first Best in Show when she was shown for the very first time.
CHAMPION
INTERNATIONAL CHAMPION
4*CAGCIB
6*Ex 1
8*NOM
7*BIV
5*BIS
2*BIS - breeding queen
2*BIS - Litter
Best kitten 2016 in RK
1*Judges Heartcat
S*Eurovisions One Day
S*Eurovisions One Day is a blue tabby bicolour girl. We have been waiting to add a blue tabby girl with excellent eyecolour in our breeding program for over 10 years and One Day is finally here. She has really silky coattexture and also lovely expression. Her body is long and her size is promising. Her V-pattern in the face is very symmetric and she has no dark spots on her legs. Her points have developed really nice. She will stay in the home of Johanna and Bastian. Thank You for taking care of our noble princess dear Johanna and Bastian. She was born in the sign of Scorpio the 26:th of October 2017.
Not shown because one front leg is coloured
PL*Raggato FIDELIS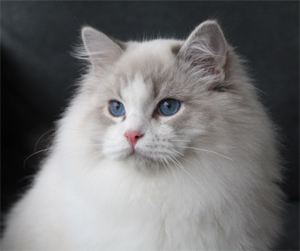 FIDELIS is a boy from the cattery PL*Raggato in Poland. He is co-owned with our friends Marie and Anthony Bay, S*My Bonnie cattery, where he also lives.
It was a nice pleasure to pick him up in Warzaw. As soon as you touch him he starts purring. On the airplane he charmed all the stewards. One of these stewards decided to contact FIDELIS breeder Wioletta. She wanted a charming cat like FIDELIS:) FIDELIS has promising bodylenght and size. His eyecolour is intense blue. We are so happy for this opportunity. Thanks to Wioletta and Przemyslaw for this lovely boy. He was born the 25:th of July 2018. His zoodiacsign is Leo. He is our tabbylion:). His petname is Zigge after the Polish prince Zygmunt III who accyually was king of Sweden from 1592-1599. Unfortunatelly we have decided not to use him in breeding. So he in now a sweet neuter.
CH S*Eurovisions Diamond Of Night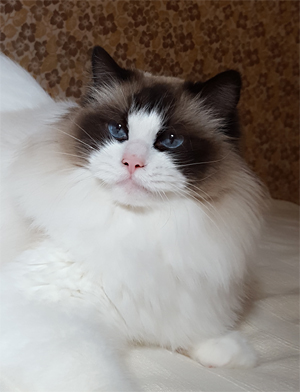 S*Eurovisions Diamond Of Night, "Dimma", is a seal bicolour girl we have kept in our breeding. She is born 17 November 2009. Her zodiacsign is Scorpio. Her mother is our beloved EC Love Angel delle Bambole and father SC Seierös Highlander. She has loving proportions and a silky coat. She has nice points and contrasts. She has also very soft and sweet personality. When You hold her in your arms she is totally relaxed, a real ragdollgirl! Her pedigree is rather unique since her both parents have very few breeding offsprings and both her parents have got the highest showtitle in FIFE, European/Supreme Champion.
S*Eurovisions Superstar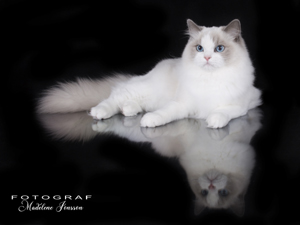 Superstars nickname is Sushi. She is the daughter of our Rose. She has lovely length of the body and so silky coat texture. Her coat reminds of her grand,grand, grand, grand, grandmother Angel, our foundationcat from Bambolecattery in Italy. She is is correct in her 03-pattern. of her strong qualities and perfect mitted markings. She is very alert and fun. She must be one of the most acrobatic ragdolls. At least among the ragdolls we know. Sushi was born 14:th april 2019 and her zoodiac sign is Aries. She is like her zoodiacsign, enthusiastic, social and impulsive.
11* Ex 1
7 * BIV
10 * NOM
4* BIS
GIP EC Love Angel Eurovision delle Bambole
Our dear Angel comes from Italy... In 2002 we contacted Florence Lombardi (Bambole Ragdolls) for a request of a kitten from her cattery. The ragdolls from Bambole have very nice ragdolllook and their pedigrees have many old foundation ragdolls. After three years of waiting, Florence mailed us and said that she finally had a girl for us. Angel was born 11 January 2005 and her zodiacsign is the Capricorn. We are so happy for the blue pearl of our dreams. Thank You Florence for this super girl.

In the Eurovision Song Contest there have been more than one song with the title "Angel"; [Malta 2005] and [Iceland 2001]. Angel is a loveable angel. She is big, has a wonderful silky coat with excellent contrasts and her temperament is wonderful. Angels bloodgroup is "A". She has given us 15 wonderful kittens. She is now neutered and she is our foundationcat.
EUROPEAN CHAMPION
1 * CAPS
4 * HP
9 * Ex 1
9 * BIV
16 * NOM
2 * BIS litter
1 * BIS/Junior
1* BIS/Senior
Best Female 2008 (Cat Club Spinn-FIFe)
Best Female 2007 (Cat club Spinn-FIFe)
Best Junior 2005 (Swedish Ragdollclub)
GRAND INTERNATIONAL PREMIER
GRAND INTERNATINAL CHAMPION
INTERNATIONAL CHAMPION
CHAMPION
PREMIER
1 * Favourite of the Audience